In this issue:
---

Microsoft Ships Office 2007 SP1 - Ahead of Schedule!
by Arie Slob
Hello Windows users,
Is this a sign of the new Microsoft? You know... under promise & over deliver? A reversal from how we have come to know the company?
This week Microsoft shipped the first service pack for Office 2007 - a month ahead of schedule. According to Microsoft Office Product Manager Reed Shaffner, the Office development team was able to deliver the enhancements and fixes earlier than anticipated, and Microsoft wanted to get Service Pack 1 (SP1) for Office 2007 in the hands of customers as soon as possible.
"SP1 provides stability and performance improvements across the 2007 Office system, keying in on customers' leading productivity concerns, and beefs up security precautions to stay ahead of the latest threats from malicious software and other risks," Reed Shaffner said. "We're optimistic that with the shipment of SP1 we're removing any residual barriers that may have impeded deployment and that adoption will only accelerate."
Office 2007 SP1 is available via a standalone download from the Microsoft Web site. The company will roll out this release via Windows Update and Automatic Updates in the coming weeks.
For a complete listing of issues addressed by this service pack, read Microsoft Knowledge Base Article 936982.
---

Microsoft Security
Microsoft Windows Security Bulletin Summary for December, 2007
The security update for December 2007 includes six updates for Microsoft Windows and one for Internet Explorer.
Severity Rating: Critical
Severity Rating: Important
---

Happy Holidays!
This is the last issue of the HelpWithWindows Newsletter for this year. Most of you will celebrate the Christmas holiday, so from myself and the entire InfiniSource team I want to wish you & your loved ones happy Holidays and all the best for 2008!
The Newsletter will return to your mailbox with the January 12 issue.
---

Windows Updates
Microsoft issued a number of updates for Windows Vista in the past weeks:
---
S P O N S O R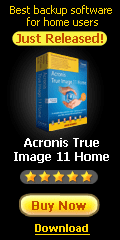 Can you imagine that all of a sudden you lose the PC data you've been accumulating for years? Your business files, photos and music just vanish without any hope of being accessed again. A kind of disaster for you, isn't it?
To avoid the nightmare, make sure you have a reliable data protection suite to image your entire system and thus get prepared for a possible hard disk failure, which in most cases happens when you least expect it.